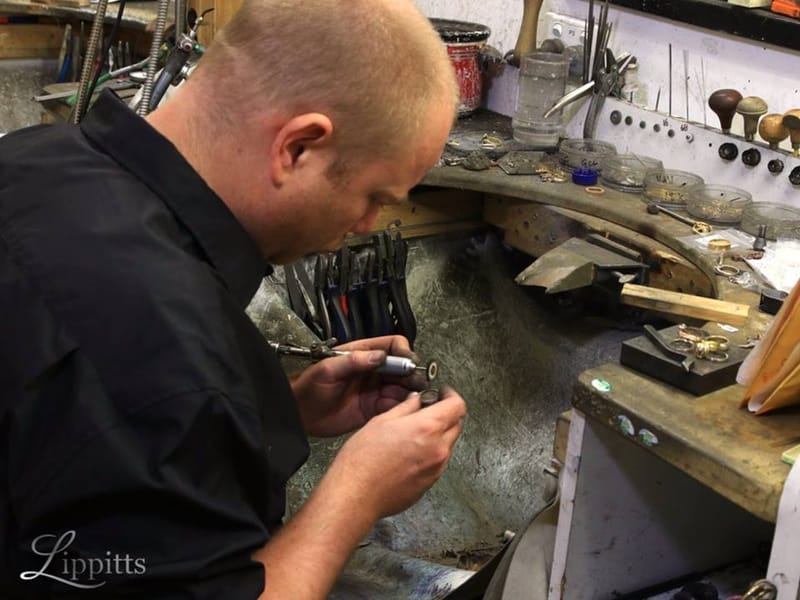 Brett Lippitt is the owner and Master Jeweller at Lippitts Manufacturing Jewellers.
Brett discovered his passion for Jewellery in the 1990s when he was in high school. His Father would take him to a place called "The Jam Factory" Where he would discover his talent and see the gift he can provide by creating beautiful pieces of jewellery.
After doing Yr 12 he decided to pursue a career in Jewellery and took up an apprenticeship with a well established Jeweller in Adelaide, Where he completed his apprenticeship.
Since this time Brett worked for some large well known manufacturers in Adelaide and trained many young people in the trade.
Brett was working for Raylaws at Munno Para, when Raylaws decided to put their Ingle Farm store up for sale. Brett took the opportunity to buy the store and take it over as his own in 2010.
The shop at the time of take over was actually located down the other end of our shopping mall at Ingle Farm down next to where the old BankSA was.
Brett Lippitt was running the Jewellery store on his own which used to be named Raylaws and previous to that it was Beaumont Jewellers. Until he met his beautiful and talented wife in 2011.
Funnily enough Brett & Tiara Lippitt actually met each other at the Ingle Farm Shopping Centre, Where Tiara was working at the bank and Brett was a regular customer (Cute story hey)
From then this wonderful power couple decided to take an opportunity to move their unique business to the other side of the shopping mall next to Kmart in 2013.
So Brett & Tiara under went a massive upgrade and face-lift as well as changing the name of the store from Raylaws to Lippitts Manufacturing Jewellers.
Our commitment to quality and our dedication to to the highest levels of customer service are the keys to our ever growing business. Producing exquisite jewellery requires the best sources for our stones and diamonds.
As an independent store we can source some of the very finest hand picked stones from all over the world. Our vast suppliers regularly travel to the major cutting centre's of the world , sourcing and hand selecting the best possible stones – we can even source unique Gemstones cut to any specification.
When you come to us for any of your jewellery needs whether it is a new engagement ring or an idea you would like a quote on getting made, or if it is a sentimental piece of jewellery that needs a touch up you can rely on old fashioned face to face service from us.
While you wait you may even see something else you desire as we have a huge range of brand name watches and jewellery as well as an Estate section where we trade your old jewellery in for new or buy your gold.
We can do it all at Lippitts so make us your first point of contact and we will go out of our way for you.
Lippitts Manufacturing Jewellers is proudly South Australian owned & family operated.